My Datameter 1000 displays reload system!
24 November 2021 | Admin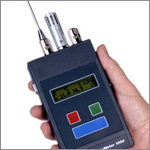 My Datameter 1000 displays 'Reload system'!
LogIT World Support solution: This can happen when either the battery runs flat during an experiment, or if disconnected from a computer half way through downloading data - this does not happen very often and there is a quick fix. The Datameter has two hidden reset buttons which are directly above the Red and Green buttons and just below the display. By pressing these, the Datameter performs a 'soft' reset. This preserves the memory of experimental data and should clear the problem. If not, the 'Hard' reset is to press the two hidden buttons along with the Blue button. This wipes the experimental data and should solve the problem. If not, the final solution is to connect to a computer and run 'SensorLab'. The software should reload the system software but if not, select 'File', 'Manager' and then select 'Reload loggers system software'.